During the last few years, many new cloud based platforms have popped into the market. One of the key reasons of their success is an opportunity to monitor and control devices anywhere, despite the current location. Large computer systems have to be up and running for many years the fulfill their purpose. Unfortunately the practise has shown that sometimes malicious people tend to find important security breaches, which can be used to cause harm for the end user. That's why it is not rational no use "garage-made" solutions for the clients, instead one should find a way to integrate production ready solutions, which receive constant improvements, are flexible and save a huge amount of time for the developer. Cumulocity is one of these products.
Cumulocity was born in Silicon Valley, California 2010. Its creators were engineers who tried to provide modern IoT (Internet of Things) solutions for the users using cloud technology. As of today, Cumulocity has been nominated for many awards, expanded to Europe and found many remarkable partners like Paypal, Tieto and Telia from all over the world.
Data visualisation
Cumulocity provides wide amount of built-in tools for data visualisation starting from traditional XY type of graphs to different item tracking systems. It also provides development framework in AngularJS, which allows software developers to create completely custom plugins and integrate them to the platform. This feature becomes really handy if the task is to merge Cumulocity and some other system using special API (Application programming interfaces).
Following picture illustrates how easily can we monitor device that is in Germany and also see it's signal strength during the history from timeline chart.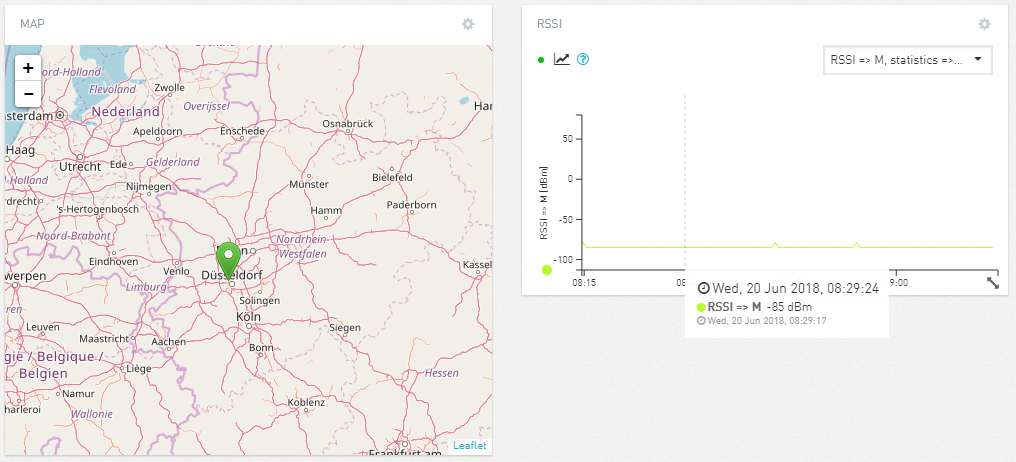 Every user can order or even schedule customizable data export report, which can be used to regularly send information out to the third parties using email to provide historical trends without creating an extra user to inner system. The report will be outputted as CSV (comma-separated value), which will make it easy to process everything automatically in other computer systems.
Project based approach
Engineers often tend to find themselves in a situation, where user interface for system administrator (or technician) is having too much information for end user or where management of every systems happens in different environment. Cumulocity allows to integrate different applications and craft tailored views for every user from one platform. In TUT (Tallinn University of Technology) we manage to give out user rights and isolated views for people from different institutes inside one central place. As a result, there will be no need to always create a new virtual machine or web page (user interface) for every new project.
Next picture shows, how we manage user rights between different projects
Integration
Cumulocity has built-in REST API available for information input and output, meaning that the device, which wants to communicate with it, has to support TCP/IP protocol. It is possible to use both encrypted (HTTPS) and plain-text (HTTP) method and the access is limited according to the user rights using a special token derived from username and password. To reduce the amount of data written into the packet, a special layer is implemented on top of HTTP. It allows to predefine templates for large packets so, that later on only a few variables and template identificator are required to be passed. This also gives chance to engineers reduce processing power of embedded instruments.
The creators of Cumulocity have also put great thought on how to make device integrations as easy as possible, so they have defined custom utilities for some of the popular development boards. Full list contains Modbus and Lora controllers, different kind of routers and even Raspberry Pi. Specific devices are all described here.
Flexibility
Besides cloud based version, it is possible to install Cumulocity on-premises. This gives chance for the end users to administer and use platform in one's own private network, which with the right setup can remove any privacy and security concerns that industrious clients may have. With this approach, it is possible to choose custom hardware and use any kind of high availability (or/and some other) solutions that client may already have in use for production services.
Summary
The need for safe, expandable and universal central administration platform rises as the IoT becomes more and more popular. Tallinn University of Technology has chosen out Cumulocity. Its main competitive feature is way to create different views for every project, which allows sharing the platform between all the institutes and removes the need for a new system each time. What is more, software developers can integrate their own custom plugins, which gives opportunity to use tailor made solutions in one place.
If You have any kind of development idea regarding the platform, we are open for cooperation opportunities that may bring great things to life. We have wide range of experts available, who can deliver products just for You.
To discover more, 30 day trial version of Cumulocity can be requested from here.
The Ministry of Education and Research and the Estonian Research Council are supporting the completion of the blog.